Ingram to Focus on Developing Relationships with Developers and Builders in Pinal and Maricopa County to Deliver Fiber to the Home
AireBeam, Arizona's rapidly growing fiber to the home and fixed wireless Internet service provider, announced today the appointment of Paul Ingram to Director of Business Development.
According to AireBeam CEO Ben Elkins, Ingram will be responsible for all business development for AireBeam with a focus on cultivating relationships with developers and builders in Pinal and Maricopa Counties as demand for fiber to the home Internet continues to grow in Arizona.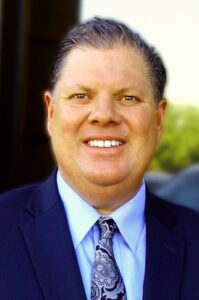 "We are pleased to have Paul join AireBeam in such a strategic role especially at a time when we are experiencing great demand for our services," Elkins said. "People in Arizona are seeing the value fiber to the home offers, and builders and developers are embracing fiber as a selling feature in their developments. Paul will help build key relationships with these groups in Arizona to support our growth."
"Fiber to the home is an exciting product that can bring so much added value to builders and developers while giving residents the level of Internet performance they want and need," said Ingram. "I am very excited to be in this new role with such a great company that has shown they have a service that is very appealing to Arizonians."
Ingram brings to his new position over 20 years of experience in the construction industry. Previously, Ingram acted as Vice President of Sales for the Southwest Region for Rabine Group/Site Technologies, a national and regional pavement maintenance company and as Senior Business Development Manager for the Southwest Region for Brightview Landscape Development, a national and regional landscape and maintenance company. He has held similar positions at Summit Materials and SanTex Commercial Services.
According to Elkins, a key initiative for Ingram is to work with developers and builders in Pinal and Maricopa counties to install AireBeam's fiber to the home infrastructure at the time of construction. As part of the effort, he has been working closely with economic development organizations and associations such as Valley Partnership, Pinal Partnership and others to network and cultivate development in Pinal and Maricopa Counties.
About AireBeam
AireBeam is a rapidly growing fiber to the home and fixed wireless Internet service provider proudly serving the counties of Pinal and Maricopa, and Arizona City, along with their surrounding areas. AireBeam's mission is to provide affordable and accessible Internet to rural areas in Arizona. In March 2020, Boston Omaha Corporation [NYSE: BOC] acquired AireBeam to further amplify AireBeam's mission to expand high-speed Internet services to not only consumers, but homebuilders, developers, build to rent communities and RV parks. Order service today!