Fast, reliable Internet for the speed of your life.
Service Areas Available*
*Also includes RV Park and Resort Services.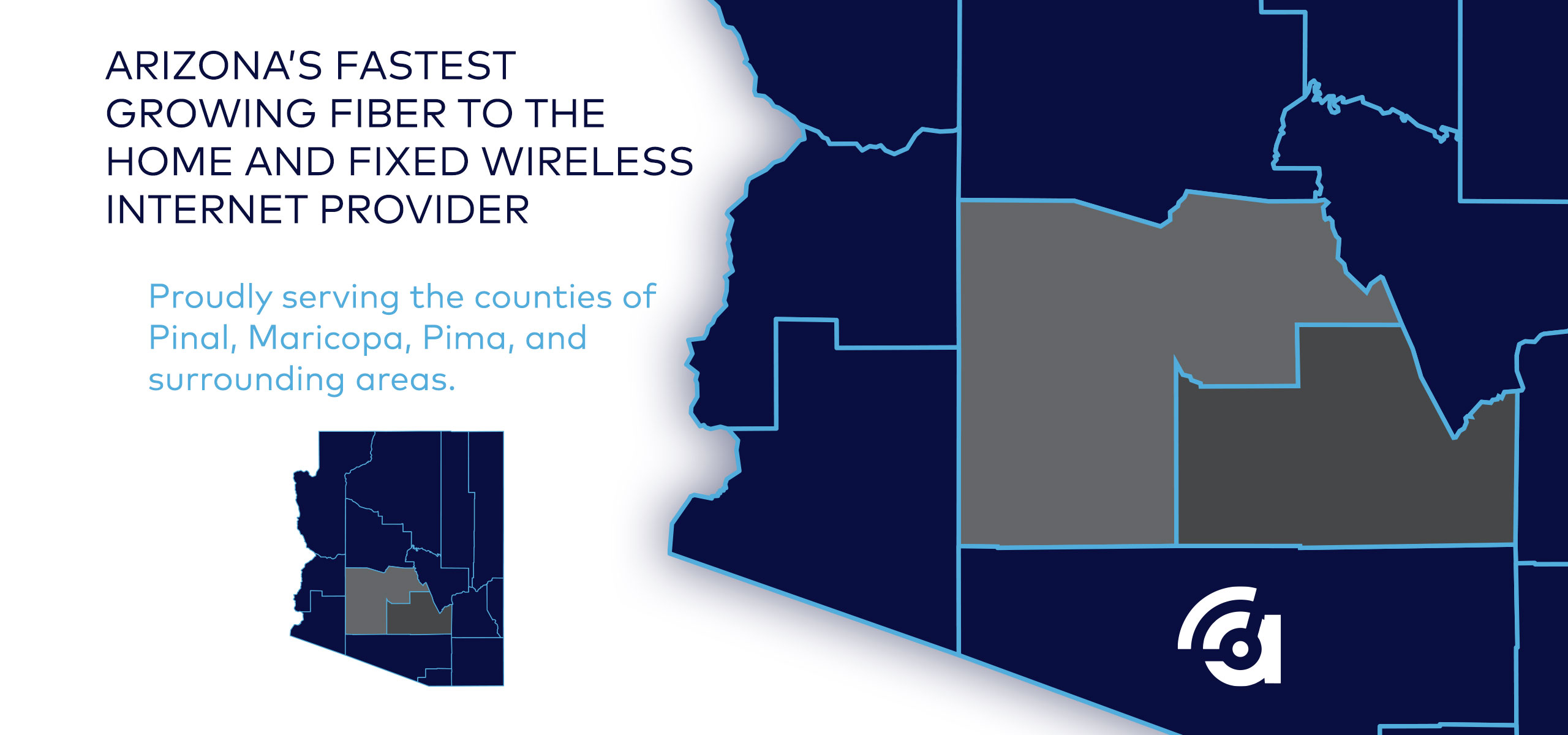 Cities Serviced
Arizona City
Buckeye
Tonopah
Gila Bend
Casa Grande
Picacho Peak
Eloy
Coolidge
Florence
Maricopa
Stanfield
Silver Bell Estates
Arlington
Good Year
San Lucy
San Tan Valley
Tierra Del Sol
RV Parks Serviced
Sundance RV Resort [I, II & III]
The Buttes at Sundance
Quail Run RV
Desert Gardens RV Park
Fairways Mobile Home Park
Road Runner Mobile Home Estates
Silverado RV Resort
Las Colinas RV Resort
High Chaparral RV Park
Picacho Peak RV Resort
Rover's Roost Private Co-Op Park
Picacho Peak State Park
Sunscape RV
Leaf Verde RV
Leisure Valley RV Resort
Caliente Casa de Sol RV Park
Encore Foothills West RV Resort
What Speed Do You Need?
See what speed is right for you based on your household's streaming, work at home, and gaming needs.
For all plans:
No credit card required to start
No Data Caps
No Contracts
Vacation Hold Available
1 year router rental included
5 or More active users
Perfect for pro-level gaming
Ideal plan for work from home
Optimal for online learning
Fast speeds at peak times
4K Streaming HD video on multiple devices
Downloading huge files quickly
3-4 Person Household
More bandwidth for higher quality performance
Streaming HD video on a couple devices
Online gaming for multiple players
2-3 Person Household
Downloading bigger files
Streaming HD video
Online gaming for
a few players
1-2 Person Household
Email and online browsing
File downloads
Streaming video on one device
Online gaming for one player
2-3 person Household
Downloading large files
Streaming HD video
Online gaming for multiple players
4 or More In Household
Streaming HD video on a multiple devices
Downloading large files quickly
Online gaming for multiple players
Video conference calls
*Approval may be required
Need a Router? You can rent one from us. It's only $10.00 extra added to your monthly agreement.
Agreement Option 1:  1 Year Agreement – NO Activation/Installation Fees
Agreement Option 2: Month to Month – $150.00 Activation/Installation Fee
Receive up to $30 off your montly bill with ACP Benefits through the ACP (Affordable Connectivity Program) Program. Check if you qualify!
Tips to Improve the Speed of your Internet Connection
Software Tips
– Disconnect from your VPN connection.
– Using videoconferencing with VPN can decrease the performance of your home internet connection. Only use VPN when it is necessary to access files and applications.
– Examples of videoconferencing software include Zoom and Microsoft Teams.
– Keep your laptop battery charged or plugged in.
– When laptop batteries run low there's often a drop in performance as a power-saving strategy.
– Call into videoconferencing through your phone.
– If you experience poor audio quality using Zoom on your computer, you can use the phone numbers provided by the meeting host to access audio via telephone to decrease your bandwidth usage.
Hardware Tips
– Turn off internet-connected devices when you aren't using them.
– Clear your browser cache and cookies.
– Exit streaming apps after watching videos or listening to music.
– Restart devices regularly.
– Update anti-virus software, drivers, firmware, and computer and device software.
– Upgrade older Wi-Fi devices to ones with newer, faster Wi-Fi technology.
Contact AireBeam to learn more about Wi-Fi-compatible routers.
Activities that affect your home Internet Speed
– There are too many connected devices.
– Multiple activities are occurring at a time on your device. This includes activities like streaming, gaming, videoconferencing, and downloading large files.
– Poor overall Wi-Fi signal. For a stronger connection you can directly connect your device via ethernet cable.
– Interference from other Wi-Fi networks. Relocate your router to another section of your household to avoid interference.
If you're facing any of these issues, contact AireBeam to upgrade your bandwidth, router, or speed to accommodate your household needs.
ways to potentially increase internet speed
– Offload messaging and social media applications to other devices.
– Turn off your video when using conference apps.
– Restart your router weekly. The router, sometimes called the gateway, is the device that takes the "feed" from your home Internet service and disseminates it for use by your connected computers and devices.
– Keep your router and devices away from obstructions (like metal) and common sources of interference, such as baby monitors and microwaves.
– Make sure you have an AireBeam-provided Wi-Fi router. Move Wi-Fi devices closer to your router. The farther away they are, the weaker the signal and the slower the speed.
Call AireBeam at 520-510-0909 for speed upgrade options!
The Leading Fiber Internet Provider in Pinal County
Mailing Address: 9450 SW Gemini Dr, PMB 31293 Beaverton OR 97008-9705
(520) 510-0909
support@airebeam.com
Arizona, USA