CONNECT ON-THE-GO WITH AIREBEAM
Easy Wi-Fi for RV Parks by AireBeam
Welcome to AireBeam's specialized Wi-Fi service designed to meet the unique demands of a mobile lifestyle. Keeping you in touch, AireBeam ensures you have the constant speed and reliability essential in today's connected world.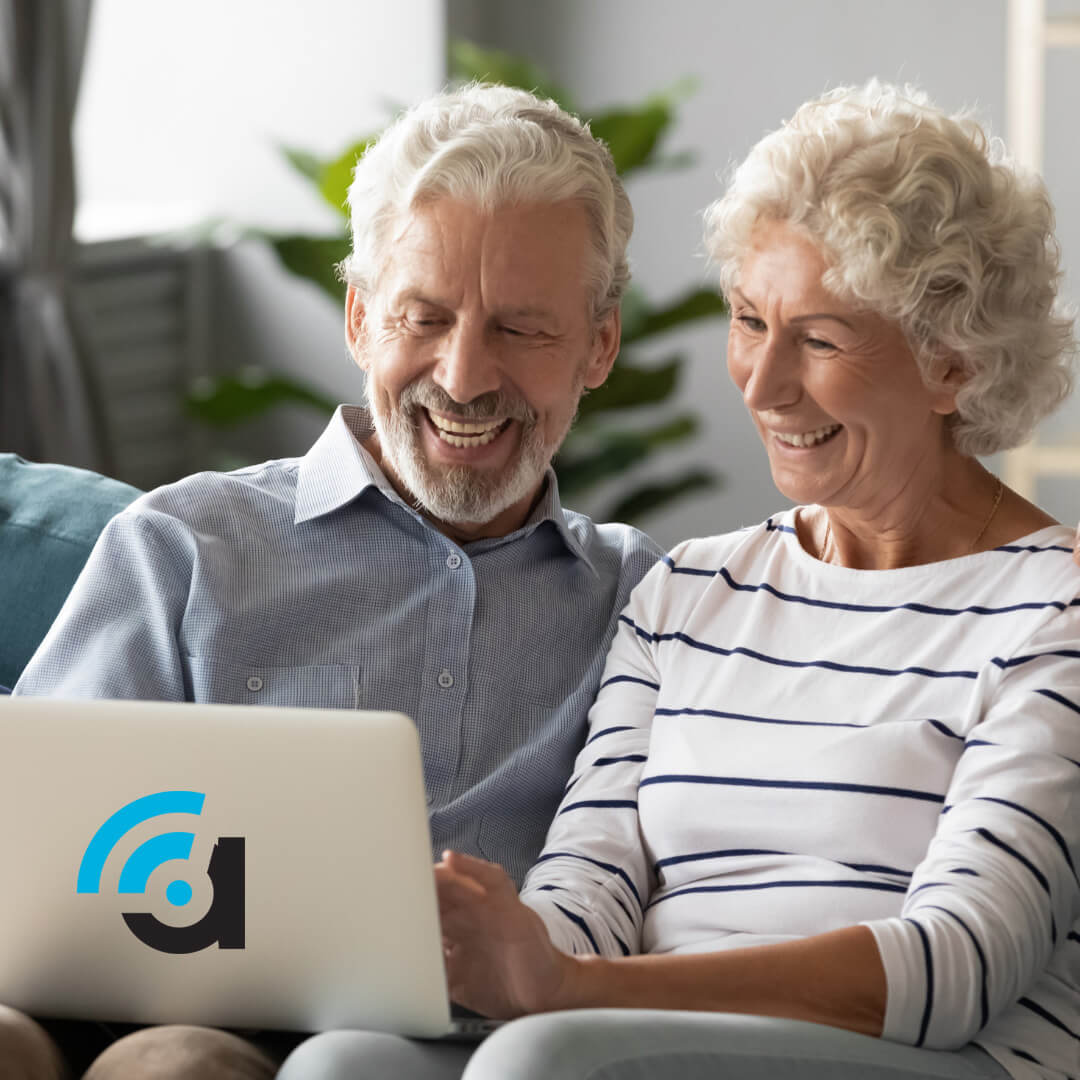 Flexible Wi-Fi Plans for Every Need
Discover AireBeam's range of tailored Wi-Fi plans, perfect for any length of stay at our serviced parks. Ranging from a day to a full month, our plans adapt to your needs, offering up to 5-10mbps in selected parks. With AireBeam, enjoy reliable internet connections tailored to your lifestyle.
Staying Longer? Order Fixed Wireless
Fixed Wireless Internet employs radio waves to link homes or businesses to the web. It utilizes special radios and antennas for high-speed signal transmission between a central tower and your location, bypassing cables and fiber-optic lines. 
Advantages of AireBeam Fixed Wireless:
No cables or fixed lines are required.
The connection is fast and reliable.
There are no data limits.
Phone service isn't required to keep your connection.
There is the potential for wider availability.
Step 1
On your laptop, tablet, iPad, etc - find the AireBeam_WiFi network and connect to it. Open a browser window (chrome, safari, etc)
Please note: your browser will say you do not have internet access - this is normal and true. You will not have internet access until you create your account, choose your package, and pay for the package. If the page does not automatically open up the to AireBeam sign-up page, go to: hotspot.airebeam.com
Step 2
There you will want to Create or Sign up to create a new account. You will put in your contact information and as you continue it will ask you how much time you would like to purchase.
Note: All plans available are shown above.

Step 3
You will then be presented with the screen shown.
Note: The Account Status may first say expired and then should change to Active once your payment card is processed successfully.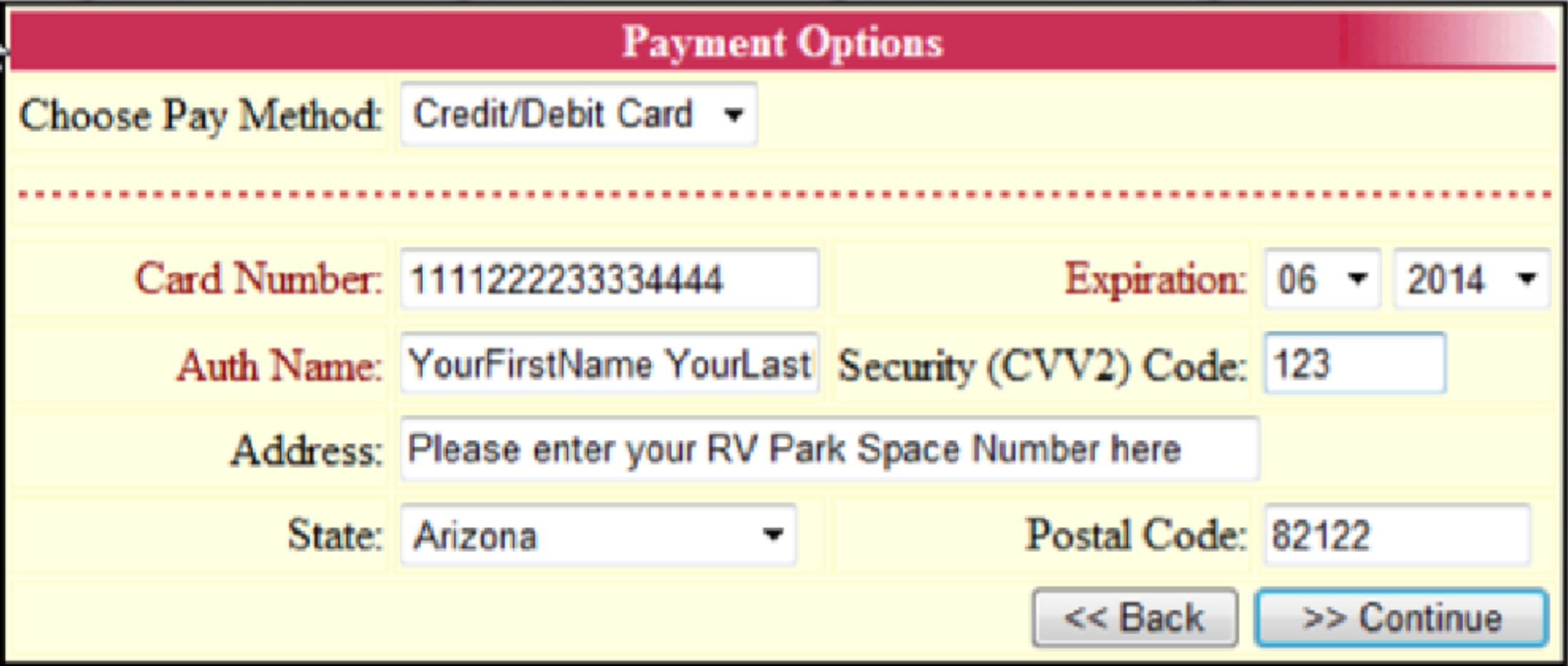 Step 4
Payment Information Instructions:
Auth Name: Enter the name as it appears on the card.

Billing Address: Ensure it matches the one registered with your card issuer.

CVV2 Code: Use the last three digits on the back of Visa/MasterCard/Discover cards (e.g., 1111-234, enter 234). For American Express, use the four digits printed on the front.
Park WiFi Notice:
Our Park WiFi is a communal service shared among guests at our premium RV Resorts in Southern Arizona. This service utilizes the 2.4Ghz frequency band, similar to kitchen microwaves, for wireless internet access. It supports basic browsing and email, but is not suitable for streaming, smart TVs, online gaming, or work-from-home activities.
Optimal Use: Best used within 20 feet of a Hot Spot source.
Device Limit: Connect up to two devices simultaneously.
Signal Strength: If you're in a park model, proximity to a window may improve connectivity. For stronger needs, we recommend our Antenna-based service.
Please Note: Park WiFi is like any public WiFi, not intended for high-bandwidth or sensitive activities.
Need Assistance?
We have 24/7 support available a call away! Click the button to get started.
Stretch Your Budget with ACP and AireBeam
In partnership with the Affordable Connectivity Program (ACP) by the FCC, eligible households an offer up to $30/month discounts on our Wi-Fi plans. Showing our commitment to providing accessible and affordable internet for users.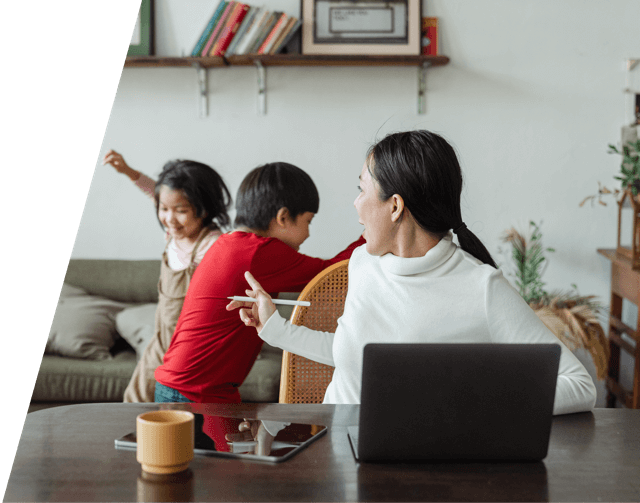 No Data Caps

$30 ACP Credit
Click for Eligibility

24/7 Support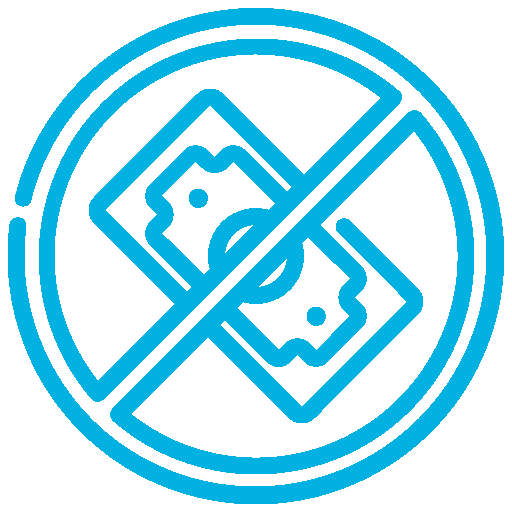 No Taxes and Fees

No Data Caps

$30 ACP Credit
Click for Eligibility

24/7 Support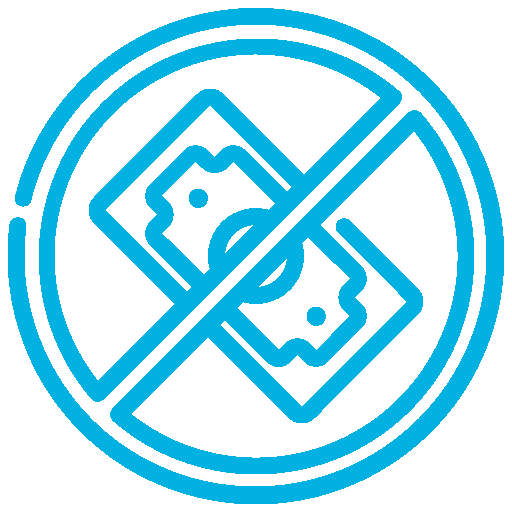 Frequently Asked Questions
At AireBeam, we want the process for fast and reliable Internet to be as simple as possible. If your question isn't included or if you'd like more information, give us a call or send us a message.
WHAT EQUIPMENT IS NEEDED?
AireBeam will provide all equipment necessary at the time of installation. In many cases, a reflector may be needed to provide additional signal strength.
IS FIXED WIRELESS SECURE?
Yes. Fixed wireless has been used in military communications due to its difficulty to detect and interfere with. However, as with any broadband Internet connection, the customer has a constantly open connection to the Internet. Therefore, consumers are responsible for protecting their computers from any and all forms of cyber attacks. Installing antivirus software and a firewall will help protect your computer from damaging viruses.
DOES WEATHER AFFECT FIXED WIRELESS?
Severe weather, in most instances, will not impact your Internet connection. Heavy winds have the potential to interrupt connections if your antenna system is blown out of place. AireBeam installs antennas with this in mind, ensuring the system can withstand extremely heavy winds.
WHO DO I CONTACT FOR SUPPORT?
Please call us at 520-510-0909, we are available 24/7 for support. AireBeam is committed to offering customer service at all times to ensure you have the best experience possible.
HOW LONG IS THE INSTALL PROCESS?
Antenna installation and setup can take about 2-3 hours.
CAN I CHOOSE THE ANTENNAS PLACEMENT?
An AireBeam technician will choose the best location and position for the antenna to ensure the strongest connection. If there are multiple locations in your home offering similar signal strength, the technician will consult with you prior to installation.
Note: Attempting to move the location of the outdoor antenna will result in a loss of service.