Now Accepting Pre-Orders
AireBeam, Arizona's fastest growing fiber to the home and fixed wireless Internet service provider, announced today its plan to bring high-speed fiber Internet to Casa Grande, Arizona. The company has commenced the planning phase of this groundbreaking project, aiming to bring high-speed fiber connectivity to the residents and businesses of Casa Grande.
With this expansion, AireBeam is committed to providing cutting-edge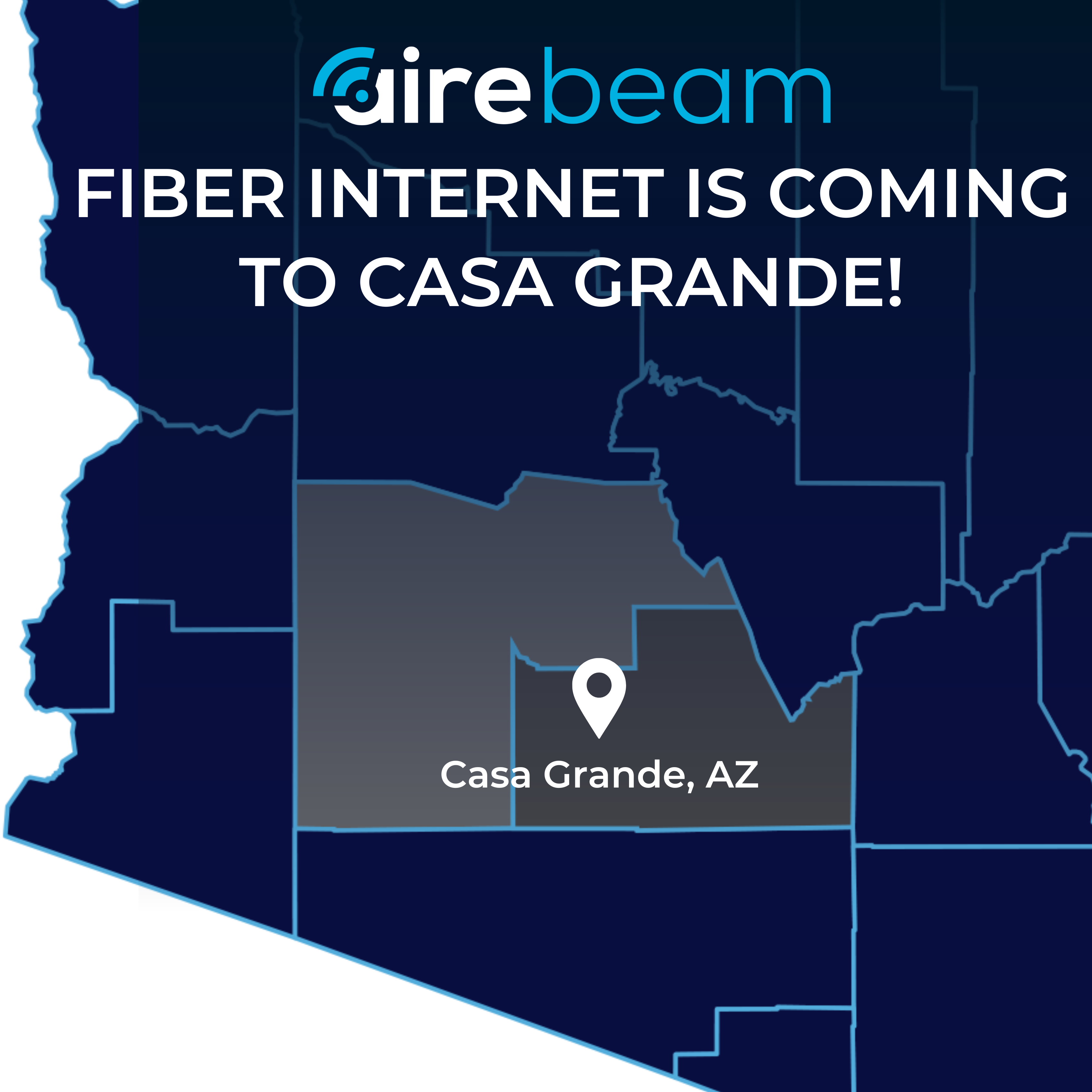 technology and unparalleled connectivity. Fiber infrastructure will enable residential speeds of up to 5 Gig, with business fiber speeds of up to 10 Gig coming soon. This will deliver a significant leap in Internet capabilities for the area.
"We are thrilled to embark on this exciting journey to bring fiber-optic Internet to Casa Grande," said Ben Elkins, CEO of AireBeam. "Our objective is to equip the residents and businesses of this thriving community with the fastest and most reliable Internet speeds available, further enriching their digital experience."
Pre-orders for fiber Internet in Casa Grande are now open, allowing customers to secure their place as early adopters of cutting-edge technology. By pre-ordering, residents and businesses can ensure they are among the first to have their services activated once the network is fully operational.
According to Elkins, AireBeam aims to activate fiber services as early as September 2023, underscoring the company's dedication to delivering the benefits of high-speed Internet to Casa Grande as soon as possible. This timeline acknowledges the growing demand for fast, dependable connectivity in today's digital age.
Elkins added that with the introduction of fiber Internet infrastructure, residents will experience seamless streaming, lag-free gaming, and faster downloads. Meanwhile, businesses will unlock new opportunities for growth, productivity, and innovation. "AireBeam firmly believes that this expansion will contribute to the overall economic development of Casa Grande, attracting new businesses and bolstering the local economy," he said.
Throughout the planning phase, AireBeam will work closely with local authorities, organizations, and community stakeholders to ensure a smooth and efficient deployment process. The company's experienced professionals are committed to providing a seamless transition to fiber Internet, minimizing disruptions and maximizing customer satisfaction. Knowledgeable representatives will be available to address inquiries, assist with pre-orders, and provide guidance on optimizing the fiber Internet experience for customers in Casa Grande during the expansion and after it is completed.
To learn more about AireBeam and pre-order fiber services in Casa Grande, please visit www.airebeam.com/casagrande to get notified.
About AireBeam
AireBeam was founded in 2004 and is one of Arizona's fastest growing fiber to the home and fixed wireless Internet service providers. AireBeam is locally operated and proudly serves Pinal and Maricopa Counties, Arizona City and the surrounding areas. Their mission is to provide affordable and accessible Internet access to rural areas in Arizona. AireBeam is a subsidiary of Boston Omaha Corporation (NYSE:BOC).